3 hot takeaways after Raptors split two-game series with 76ers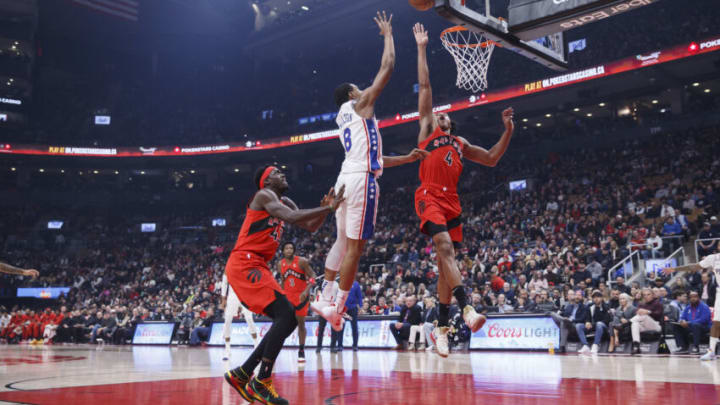 TORONTO, ON - OCTOBER 28: Scottie Barnes #4 of the Toronto Raptors tries to block a shot by Shake Milton #18 of the Philadelphia 76ers (Photo by Cole Burston/Getty Images /
Pascal Siakam and the Toronto Raptors were handed a challenging start to this season, as they played nearly a dozen straight games against teams that either made the playoffs or were in the play-in. After two impressive wins against the Miami Heat and the Philadelphia 76ers, the Raptors hit a major speed bump.
44 points from Tyrese Maxey helped the 76ers outscore Toronto by 22 points, sending the Raptors to 3-3 on the season despite the absence of Joel Embiid on the floor. The Raptors' flaws in terms of how their roster is constructed were laid bare for everyone to see.
The Raptors have one of the game's best starting lineups, with all five of their best players capable of leading the team in scoring on any given night. However, when players like Fred VanVleet put forth horrendous shooting nights, it shows that this team still has a long way to go.
This series illuminated several truths about the Raptors roster, some of which were good and some of which were horrendous. The Raptors need to analyze these data points and correct their current way of operation to make sure that they can bounce back and get over .500 relatively soon.
3 hot takeaways from the Toronto Raptors' series vs. 76ers
3. Scottie Barnes must be more aggressive
Barnes has been playing very well this season, as the reigning Rookie of the Year looks even more relaxed as a shooter while maintaining all of the physicality in the paint Toronto loved. However, he hasn't had the quickest trigger finger in the first handful of games.
Eschewing a Heat game in which he left early due to injury, Barnes has not topped more than 14 shots from the field in any game this season. Despite making more than half his shots and improving his 3-point shot, Barnes still seems just the slightest bit gun-shy in the early stages.
Scottie Barnes must shoot more for the Toronto Raptors.
While Pascal Siakam being on fire has undoubtedly taken some shots away from Barnes in the first few games of the year, Toronto needs to figure out a way to make sure he doesn't plateau as a scorer. They didn't draft him to be a 15 points per game switchblade. They picked him with the expectation he'd be a primary scorer.
Is it unreasonable for Barnes to soot around 17 times per game? A little over four shots per quarter? He wouldn't be ballhogging, but he'd get ample opportunity to show that his offensive game has improved since last year. While the team's loss against Philadephia was an atrocity, Barnes did nail a couple of 3-pointers.