O.G. Anunoby dominating Trae Young proves he deserves All-Defensive team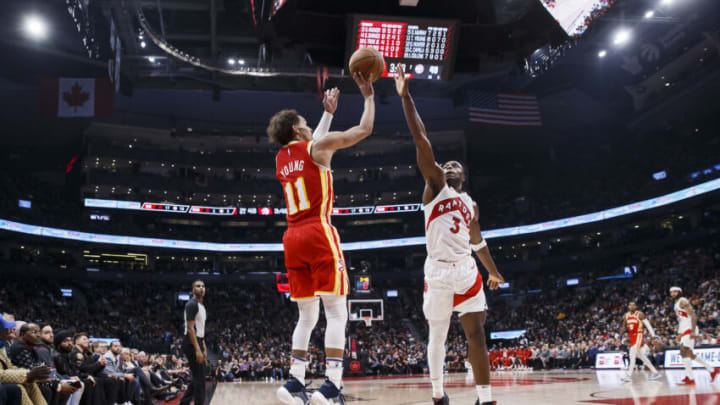 TORONTO, ON - OCTOBER 31: Trae Young #11 of the Atlanta Hawks puts up a shot over O.G. Anunoby #3 of the Toronto Raptors (Photo by Cole Burston/Getty Images /
O.G. Anunoby and the Toronto Raptors had quite a difficult challenge on their plate in their game against Trae Young and the Atlanta Hawks. Facing Young and Dejounte Murray is tough enough, but the Raptors had to do so without Fred VanVleet due to a back issue.
The Raptors were undaunted by this prospect, trusting their parade of long-limbed bulldozers to beat Young and Murray into submission. Their game plan proved to work like a charm, as the Hawks could not overcome the challenge Anunoby and the rest of the defense threw their way.
Anunoby finished with 14 points, six rebounds, and an astounding six steals. Young accounted for 10 turnovers while going just 3-12 from the field and scoring 14 points on the evening. Murray was slightly better, scoring 20 points and dishing out nine assists, but he turned it over four times in a 139-109 Toronto win.
The All-Defensive Team rumblings are no longer overconfident Raptors fans preaching the gospel of Anunoby to a bunch of deaf ears. Forget making second-team; the way in which Anunoby has started the season, illustrated by this masterpiece, has shown that he is worthy of first-team consideration.
O.G. Anunoby has been the Toronto Raptors' best defensive player
Anunoby was far from a one-man show in this game. An improved Scottie Barnes hit four 3-pointers in the first three quarters, Chris Boucher had some very nice minutes off the bench, and the elite Pascal Siakam recorded a double-double while barely breaking a sweat. Still, Anunoby was the defensive lynchpin.
Anunoby's versatility has long been his calling card, as he can be seen defending elite big men and top point guards in the same quarter. Not only has he shown that he can still level up defensively without becoming less versatile, but he's taken his on-ball skills to a new plane.
Even when VanVleet is healthy, the Raptors are constructed in a way that it would behoove them to slow the game down and make life hell on opposing backcourts.
While expecting this many turnovers may seem unrealistic, the fact that O.G. and the defense as a whole had such a terrific night against one of the best 1-2 punches in the game should say something about this roster and the invaluable Anunoby's individual excellence.
After years of missing out on one of the most exclusive honors in the NBA, either through anonymity or injuries taking away large chunks of his season, the confluence of circumstances that could lead to O.G. finally getting the recognition he deserves from the league could be at hand.